Budapest-based Horizon Development was established in 2005 to offer world-class, integrated professional services on the Hungarian property market, including development and property management, leasing and marketing.
Within a decade, the company – employing 19 top experts by today – became a key player and developed over 500,000 sqm of premium quality property ranging from office buildings to shopping and logistic centers, industrial parks, showrooms, sports complexes and luxury residences. Recent references include fully occupied and divested, multiple award winning green office buildings: 25,000 sqm Eiffel Square (2010) and 14,500 sqm heritage-protected Eiffel Palace (2013). Horizon Development has always aspired to deliver results beyond expectations, and focused on the premium segment both in terms of developing projects in the most sought-after downtown Budapest locations, incorporating the most innovative solutions and complex services into its buildings, and involving clients and business partners in the process, thus creating long-term, trust-based relationships.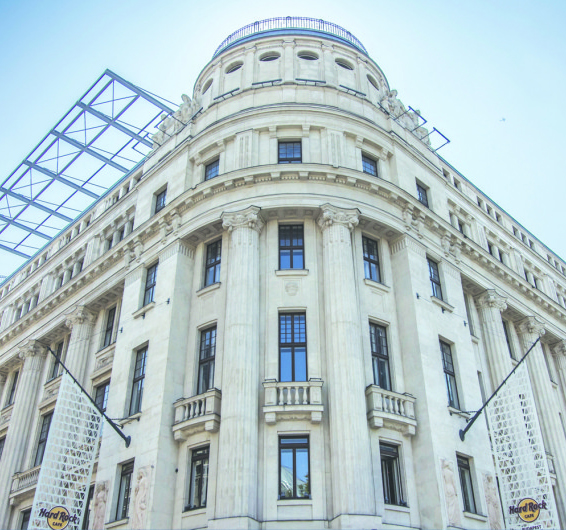 Specializing both in heritage protection and modern architecture, and quickly responding to refined and unique demands formulated by market leading companies, the ambitious and visionary leadership of Horizon Development definitely fills a niche on the Hungarian development market. The remarkable professional and financial success of Eiffel Palace paved the way for three, similarly challenging and rewarding projects: 13,750 sqm Váci 1 Building elegantly linking the grandeur of a classic flagship store with modern offices and trendy restaurants (2016), the 25,000 sqm large-scale inner Váci út office scheme of Promenade Gardens (2018), and the superior Szervita Square development (2020) of sustainable and community features, combining retail, office and luxury residential functions in the very heart of the Hungarian capital on 12,500 sqm. The 9.000 sqm downtown luxury lifestlyle hotel project will be brought to life by Hungarian developer Horizon Development in partnership with KKH Capital & Property, after the complete rejuvenation of the 1873 protected heritage building. Future plans of the developer include a 9,000 sqm downtown luxury lifestyle hotel project that will be brought to life by the complete rejuvenation of an 1873 protected heritage building.